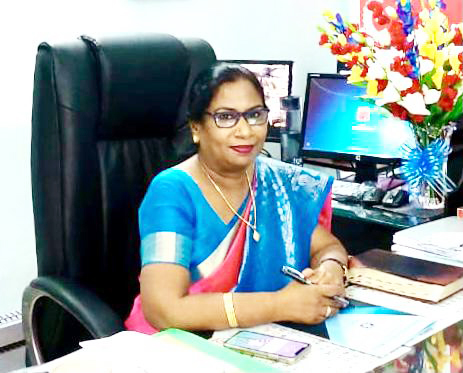 Mrs. Usha Rao: Principal
"For We are God's Masterpiece. He has created us anew in Christ Jesus, so we can do good things he has planned for us long ago". Ephesians 2:10
After serving the Assembly of God Church Schools , Sodepur and Ukhra for almost 26 years as the head of the institution, I have been given the privilege to lead the A. G Church School , Asansol since September 2020.
The Assembly of God Church , School Asansol is the centre for educational excellence and has a legacy of success and quality education that was entrenched and upheld by legendary and beloved leaders - Mrs. A. Aidinyantz, Mrs. P. Malvea ,Mrs. E.John and Mrs. J.R. Anderson .The foundation laid by our able predecessors has established this institute to be among one of the premier schools in Bengal.
By endorsing this legacy, I intend to work as a partner in education to ensure each and every individual child's success and a bright future aided with the dedicated and experienced teaching fraternity.
"Education in its true sense should enlighten the mind, broaden the horizon of understanding, while preparing one for life". As the world around us is changing at a lightning speed ,we need to adapt to the new techniques, skills and innovative approaches. Having this aim in our mind and given the current challenging situation ,the staff have trained themselves to prepare for the online mode of teaching to ensure that there is no break in the quality education imparted to our students. I would like to express my gratitude to the students ,who have endeavoured to make online teaching a success . Along with them, I also applaud the support of the parents for their children and the school in helping us to ensure that the child is given the best in education and that we don't compromise our values.
The school is successfully operating in two locations with sprawling campuses . We now are providing Three streams (Science, Commerce and Humanities) at +2 level and have well equipped laboratories and Audio -Visual rooms to make teaching and learning more creative and interesting for the students when they go back to the regular mode of teaching .
I thank God for our School Managing Committee and the dedicated team of staff who, constantly strive along with me to see this institution rise from strength to strength, grace to grace and glory to glory. I am delighted that we would be in touch with our alumni through this website and will have more interaction with them in the future .As I conclude my message ,I would like to encourage all our AG-ites to believe in themselves and believe in the good plans and purposes of God for their lives.
God bless you.
Mrs. U. Rao
Principal