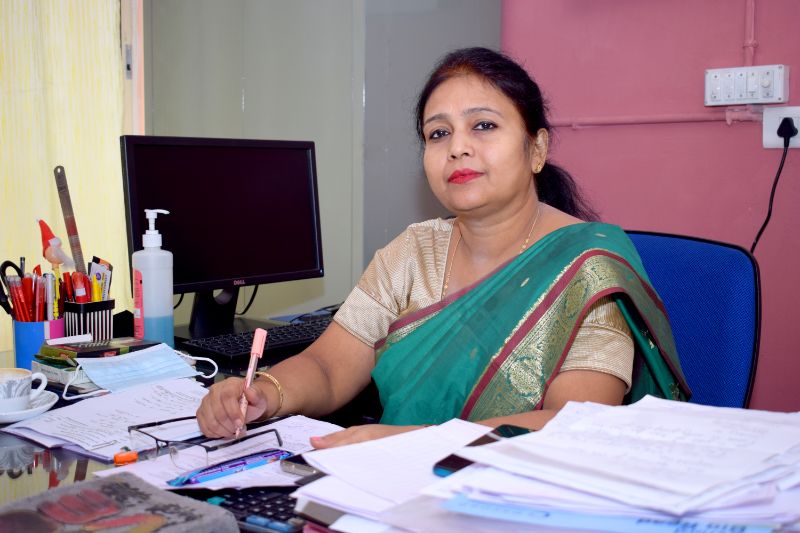 Mrs. J.Spencer: Headmistress
Welcome to our school website! Assembly of God Church School, Asansol, an eminent educational Institution situated on the Grand Trunk Road(West), is the realization of a dream that our Founders Late Rev.Ps.W.G.Long and Mrs. Harriet Long cherished in their heart of hearts. It was a dream of establishing a school that would produce not only excellent students but also excellent human beings.
This cherished dream and the great calling from the Almighty led them to set up a small preparatory school for the tiny tots way back in 1963. What started as a humble prep school has now blossomed into a top-notch High School that caters to the aspirations of hundreds of girl students seeking quality education.
It is believed that education becomes complete only when it nourishes and develops the mental faculties as well as the physical capabilities of students. We at Assembly of God Church School Asansol believe in mental, spiritual, emotional, psychological and physical development of a child which is 'holistic' education in the true sense of the word. The interests of the child are of paramount importance. Greater emphasis is laid on knowledge obtained from co-curricular and extra-curricular activities rather than just books. Students are encouraged to participate in various inter-school and intra-school activities such as Debates, Poetry-Recitation Competition, What's The Good Word, Quiz, Singing Competition, Fests, Basketball, Volleyball tournaments, Exhibitions etc in order to help them discover their latent strength and abilities. Our Academic Calendar is replete with 'Out of the Box' activities. We at A.G.Church School Asansol do things differently and not just different things. We have won the British Council International School Award twice already in the past under the tutelage of Mrs. J.R.Anderson our former Principal and earned the title of being a Global School. At present we are awaiting the ISA Award for the third time.
The teachers of our school are well qualified, dedicated and devoted. They believe in moulding and shaping the lives of the students into responsible and upright citizens of the world. They are always ready to take the initiative, are extremely innovative and are forever eager to go the extra mile.
Assembly of God Church School Asansol has nurtured with pride many budding talents such as scientists, doctors, lawyers, engineers, IAS, IPS, teachers, professors, journalists, singers etc. Our students are extremely well placed in society in the professional level. Wherever they are it is certain that they hold dearly the values taught to them by their Alma Mater. Our Academic Results have always been Par Excellence and many a student has done us proud by obtaining a rank at both the State and National levels.
Assembly of God Church School Asansol, is blessed ground where relentless prayers over the years gone by have been instrumental in taking the school to where it stands today. We strongly believe in 'Education for Exultation'(The joy and exhilaration one derives from learning has no parallel) One of the premiere institutions in the state of West Bengal, Assembly of God Church School Asansol has redefined paradigms and has set several benchmarks. We wish to continue with the good tradition of camaraderie and pledge to conduct ourselves with dignity to uphold the ethics of the Institution by living up to our motto 'By Labour And Honour'..
A few words of advice: There is no progress without work and sacrifice. To reach the stars we must overcome difficulties. Yet, some of us want a crown but not a cross. Remember: "No pain, no palm; no thorns no throne; No gall, no glory; No cross, no crown."- William Penn " Gold medals aren't really made of gold; they're made of sweat, determination, and a hard-to-find alloy called guts."- Dan Gable Finally; "Trust in the Lord with all your heart and lean not on your own understanding; In all your ways acknowledge Him and He shall direct your path." : Proverbs 3: 5-6(The Bible)
Thank You
Mrs. J.Spencer
Headmistress