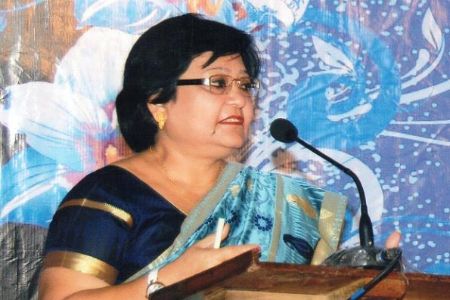 Mrs. J.R.Anderson: Former Principal
"It broke our hearts to lose you
But you did not go alone
For part of us went with you
The day God called you home
God's garden must be beautiful
He always takes the best!!
Mrs. Joyce Rita Anderson was perhaps one of the finest Principals the school had ever seen . Her untimely demise has left a huge gap in the lives of all who had the privilege to meet her. She was a woman of substance- full of vitality and energy. She always had a solution to a problem and there was nothing that could deter her untiring spirit. She was a fiery spark full of love and determination. She was as selfless as she was determined and has left a mark on so many people. She cared about everyone's happiness way before her own. The students and staff were her extended family. She longed to see hearts change and grow. Her dreams and vision for the expansion of the Institution will not go in vain. She laid the foundation and now it is left for us to fulfill those dreams. She has left a legacy of positivity which we must carry on.
You rest in the arms of angels
In a place of peace and love
Watching over us always
From Heaven up above!
By Mrs. S. Bhadrish(Senior School Coordinator)
HOMAGE TO OUR FORMER PRINCIPAL, MRS. J.R.ANDERSON
It's hard for me to even begin to pay homage to our beloved Principal Ma'am, Mrs. J.R.Anderson. Deeply anguished and completely heartbroken, whatever I might express in words cannot come anywhere close to the deluge of emotions that lies in my heart. Today all of us ( the teaching faculty, the office staff, the helper staff, the students and all those associated with Assembly of God Church School Asansol) are shattered by her sudden demise. The intense and unbearable sorrow of her leaving us for her heavenly abode has created an inexplicable hollow, a certain emptiness that can never be filled.
A woman of God and a woman of substance; Mrs. J. R. Anderson fought the good fight, won the race and entered her rest. A mighty prayer warrior, a faithful daughter of God who always carried out the work assigned to her eagerly and passionately. Though it may appear to some that her death is untimely....but what is untimely for us may not be for God...for His thoughts are higher than our thoughts and His ways are mysterious! The years that she walked on the surface of the earth might seem less in number but the work she has accomplished is incomparable and beyond all expectations. Mrs. J. R. Anderson always gave our Lord Jesus Christ the first place in her life. He was the chief cornerstone of her life; the captain of her ship who helped her earn great accolades and surmount even greater challenges.
Her compassionate, merciful, helpful, generous, forgiving nature reflected the nature of Christ. She never undertook a task without praying and surrendering before the Lord. Her lifestyle was that of prayer and supplication which is pleasing to the Almighty. Her cheerful countenance was contagious and she always had an encouraging word for everyone! She was very approachable and obliging which set her apart. Her thoughtfulness and spirit of sacrifice made her stand out. She never ever discriminated!!
I can proudly say that Principal Ma'am stood upright and tall in the eyes of the Lord. Her honesty, sincerity, dedication and integrity can never be equalled!
Under her guidance the school made great progress academically which is commendable. She was a Go-getter, ready to face all kinds of challenges; daring, unafraid even of death!! A Pioneer, under whose care we received the affiliation for plus two Commerce and Arts. Her indomitable courage and determination; her ' never say die' attitude, her compassionate, helpful and forgiving nature can never be forgotten. She was the one behind the KSTP building: (her prayers, patience and commitment brought the huge structure to completion); the rapid expansion and growth of our infrastructure, the addition of wings to accommodate many more happier classrooms in the G. T. Road building, the construction of two new Computer Laboratories and the basketball court in both the buildings are a few examples of her zeal to build. Under her tutelage the students took keen interest in extra curricular activities and she left no stone unturned in encouraging students to participate in both inter school and intraschool events. Mrs. J. R Anderson introduced ' What's The Good Word' a novel quiz on English Vocabulary; she was the one behind any new venture as she loved to take up new challenges! She was a dynamic leader who shepherded the flock under her care with much love and precision.
We at Assembly of God Church School Asansol solemnly believe that our beloved Madam Principal's spirit will always be close to us to lead, guide and instruct us! It's a massive loss for all of us; a huge void that is irreplaceable; and only God can console us!! Though we are shattered and broken we firmly hold on to the values she has taught us; the work culture that she set for us has no comparison! She brought life to everything that she undertook. School was a happy place with her as our shelter and we know for sure that as she rests in the loving arms of Jesus she is looking down from heaven on each one of us. We will always feel her tangible presence which will be an impetus for us to carry on.... ! You have left a legacy behind by your dedication, compassion and perseverance dear Ma'am and we pledge to carry the legacy!
You will be deeply and truly missed in person but in spirit you remain ours forever! We love you Ma'am.... for a thousand years and more........!!
Mrs. J.Spencer
Headmistress